Esquires Coffee is Top 30 Stores in Ireland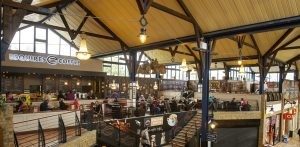 Photograph: John Kelly
Esquires Coffee in Harbour Place Shopping Centre was announced among the Top 30 stores in Ireland by Retail Excellence Ireland (REI) on the 22nd of September. The daytime café-restaurant now goes forward to the finals of the "National Store of the Year" Retail Excellence Ireland Awards taking place on the 11th of November in the Malton Hotel, Killarney, where the overall winner, as well as the Top 5 Stores and sectoral winners will be announced at a black tie awards banquet.
Esquires Coffee Mullingar is the only Co Westmeath entrant to be shortlisted as a Top 30 finalist, following an application based on the following 10 categories of retail excellence – shopfront, windows, first bite, visual merchandising, store design, curation, personalisation, storytelling and communication, hospitality and community, and technology.
Fergal McGovern and Rhona O'Sullivan are the franchise owners of Esquires Coffee Mullingar, which is one of a network of eleven Esquires Coffee stores across Ireland. Fergal and Rhona are also franchise owners of Esquires Coffee stores in Carrick-on-Shannon and Longford. Following the success of their Longford and Carrick-on-Shannon stores, Rhona and Fergal opened their 5,000 square foot flagship store in Harbour Place Shopping Centre, Mullingar, in April of 2015, which has a dedicated family-children's area fitted with iPads and other educational items.
Rhona said, "We are absolutely thrilled to be shortlisted among the Top 30 Stores in Ireland for our Mullingar store. The Esquires Coffee brand has gone from strength to strength in Ireland since we took on our first store in Carrick-on-Shannon in 2008. We strive for excellence in customer service and I would like to especially thank the drive and commitment of our excellent staff at each of our stores who are the heart of the Esquires Coffee brand in Ireland. We're looking forward to the next step and participating in the REI National Awards for Best Store in Ireland."
Rhona and Fergal's Esquires Coffee store in Mullingar, as well as their stores in Carrick-on-Shannon and Longford, places a huge emphasis on customer service at all times. Occupying a spacious mezzanine and accessed by a sweeping staircase, Esquires Coffee in Mullingar is a friendly, uniquely furnished and comfortable haven above the bustle of Harbour Place Shopping Centre.
Fergal and Rhona also strongly believe in giving back to the community and they help support local charities, host traineeships from community projects, and offer treats and incentives to local groups who organise meetings in the store.
The Retail Excellence Ireland Awards, established in 1997, are the largest, most prestigious and recognised event in the Irish retail industry calendar. The objective of the awards is to recognise and reward retail stores, companies, websites, individuals and suppliers who deliver exemplary standards within the Irish retail industry. Being part of the awards' programme inspires and encourages team members to work together to deliver the ultimate experience to customers and consequently drive business sales and success.